AN AFTERNOON TO DISCOVER THE FUN OF TAHITIAN DANCE PRACTICE
This very short program allows you to have a sight of the practice of Tahitian dance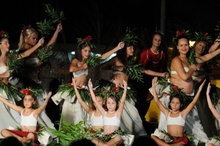 This practice is suitable to everyone, with few medical restriction
Two hours of class and a small lecture with questions and answerswill give you an idea on dance and allow you to practice it.
This program includes the initiation of two basic steps: balancing and rolling, named tamau and fa'arapu.
You will also learn the relation between dance, music, Tahitian words or other language, as well as how to tie a pareo for dancing, and also several tips on the practice of Tahitian dance.

This program takes place in Moorea, at Pihaena in a lage traditional house, in the Cook's bay in the case of day tour or private classes.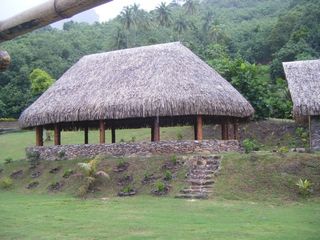 Private or group classes can be organized on the lodging spot on the condition that your hotel agrees.
(see list of hotels that allow TE ORO workshops). 
 

Practical details 

 :You have to wear a pareo for dancing.
You can have your own one, or buy a complementary practice kit  with TE ORO head-shade, TE ORO tee shirt, a practice pareo and a bottle of monoi.

The full program lasts 2h30 to 3h, depending on the number of participants.