Auntie Joëlle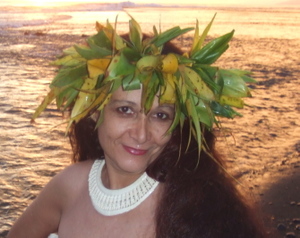 I have been dancing since 1984 and I teach Tahitian dance since 1994 within my dance school. After several years of classic ballet practicing,here in tahiti, and in Paris while I was studying at unuversity, I discovered Tahitian dance while studying in France.

Back to the fenua, I joined TEMAEVA dance group, where I stayed more than ten years, participating in all the activities of the group. Also, I have danced with the dance groups HEIKURA NUI and TOAREVA.
I started to teach in 1994, while following the dance diploma at the conservatory where I won the Golden Medal and received the degree, in 2003 and 2005.
In 1996, I founded TE ORO dance school, which means "ritual" and also designs a small bouquet of Tahitian basil worn at traditional ceremonies.
Beside the dance school, I started as a choreographer in 2001 for the performance "Rohutu Noanoa" produced by TEMAEVA.
In 2002 and 2003, I collaborated with TOAREVA for all its activities as a choreographer, and especially for the show "Polynetia", produced for the visit of former French President Jacques Chirac. Dancing in the middle of a stadium packed with 25,000 people was a unique experience and full of learning. It is during this experience that I realized the difficulty to create in the area of traditional dance, although wide resources are available. 
For three years I have been teaching overseas, in different countries : mainly France and Japan. In 2010 start teaching in Spain , and 2012 mexico and Germany. I have students in many countries in Europe: Czech republic, Gemany, England, Italy, Spain, Finland. Many of them are tahitian dance teachers now.
Henceforth, sharing tahitian dane and culture around the world is my way of life, and the way I earn my life .


Of course, I have been still teaching dance, learning constantly from my students, especially the little ones, and from people from other countries, with a different culture, who practice the tahitian dance. May be as much as they learn from me.
Dancing is my main reason in life; to express myself and to share with the other one - although I had not always lived for dancing. After three years of studying at the Political Sciences Institute in Paris, I specialized in Marketing and studied Commercial Law. Back to Tahiti, I had the opportunity to occupy several responsibilities in the government as well as in the public service of the Territory. I left all this behind in 1993.
Finally, I would like to express what Dancing strongly means to me. Beyond its multiple appearance in each culture and each style, at the end of each search, even the oddest, Dance is an art. Being so, its last finality will always be spiritual.

Joëlle